Holiday - Amboy, Mount St Helens and Portland
Travel report by Conny Voesenek, 8 days USA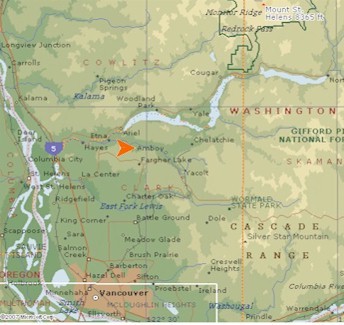 Klick to enlarge!
What went on ahead
Last year I saw the movie Brokeback Mountain and because that movie got to me, I went to search the internet. I landed on an international forum occupied mainly by Americans, but also people from Sweden, Finland, Japan, Austria, Australia and The Netherlands. Total strangers became friends and family through that forum, so when a meeting was organized by one of the members at her home, I was invited. My flyingexperience till then was limited to England at even that was only once. My friend Jacqueline was willing to take care of my dogs and so I say yes. In doing so, last year August I went to the U.S.A. for the first time in my life. In San Antonio/Texas I was picked up by my hostess and I had the time of my life. About 80 forum members were there and it felt so good to actually see those people, whom you'd only known through that forum.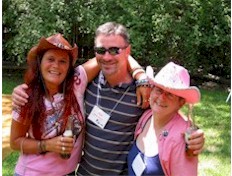 I really had the most wonderful time of my life there and I've met so many lovely, beautiful people. Some of them were allready closer to me because of the forum, one of them was Brad. Brad is living together with Steve for 18 years now. They live on their own property, viewing vulcano Mount St Helens. From the first time I saw pictures of that place it had an enormous attraction to me and I wanted to go there. I also wanted to spend more time with Brad. During the days in Texas, it was just too crowded with other people. Saying our goodbyes I promised Brad that I would visit them someday.
During the next year my White Swiss Sheperd dog had a litter op puppies and through the sale of the puppies I came into some money. Every once in a while my promise to Brad went through my head. He had allready often asked if I still had plans to come over, I was welcome! And then one day I made the decision, I knew that if I didn't go now, I'd never go there at all. So enjoy and do it while you still can!
From Schiphol - The Netherlands to Portland, Oregon - USA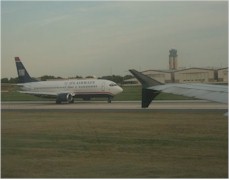 First I asked my friend Jacqueline if she could take care of the dogs again, and when that was no problem, I ordered a ticket from my friend Debby. Then all I had to do was wait until time very slowly, ticked away to August. Exactly one week and one day after my previous visit, I left for the U.S.A. again. I said goodbye to Jacq and her family on Schiphol and then my flight with US Airways took off. A stopover in Philadelphia where I was supposed to wait 4 hours, turned out to be 5 hours due to delay. But it's a nice airport with beautiful stores, a pity they were too expensive, because I saw beautiful Harley Davidson clothing.
On the second flight I was lucky. The seats next to me were empty so I had three seats to myself. I could look out of the window and later on I got some sleep. Eventually we arived at the Portland airport at 21.30 pm. Brad and Steve were allready waiting for me there. It was super to see Brad again, and it felt as good as it did before. I only knew Steve from pictures, but one hug was all it took to make it feel right! It took about thirty minutes to get to the property of Brad en Steve which is situated near a small village named Amboy.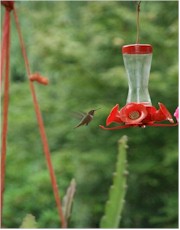 At home I settled down for a while, I'd been on the road for 24 hours, including the time difference. While enjoying a glass of wine we talked and I took a look around the house. Simply magnificent and built by Steve himself. Eventually, around 1 am. I went to bed. I hadn't slept that well in years. Nine hours later I was awakened by the sound of hummingbirds on my terrace.
Monday, August 20th, excursion to Lake Merwin - Washington
After an extensive breakfast we went to the D.I.Y.shop. Steve had started the building of a new extention to the house and was in need of wood. No brickwork or concrete there, almost all houses are made of wood! No wonder the energyflow is so good there! After Brad and I returned the truck, we took a trip through the neighbourhood. Close to a graveyard there is a lovely view on Mount Tum Tum, later on we saw it more closeby, Strange that it appears much smaller then. Then we drove on to Ceder Kreek and Chris Mille where there is a working watermill, in it's original state.
On our way to Lake Merwin we passed another property of Brad and Steve, which was for sale and has the most lovely cottage on it. I'd live there in an instant,hah, hah. Laqué Merwin is beautiful and large with emerald-green water. The forest is impenetrable almost everywhere, very large trees covered in moss, but through a pump lane we arrived at an open spot where Steven and Brad use to go swimming. This time we didn't do that because the water was freezing, but Oh, what a lovely view. When we were almost back at the house we passed the grade school of Amboy.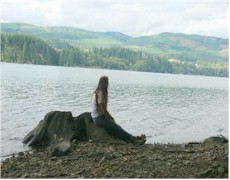 At the house we drank a beer at the bar near the swimmingpool, such luxury and pleasure! And after a tour of the property and a wonderful meal I crashed completely, so by 22.30 pm. I lay down to sleep, just to wake up after yet another 11 hours of sleep. What else could I do in such a wonderful bed.
Brad and Steve both had to work today; Steve works at a nursery garden and is also a garden designer. Brad is a is sergeant in the policeforce and runs a team. He works in a suburb of Portland. We did have lunch together but after that I had the day all to myself. This Monday, we had typically Dutch weather, rain! After e-mailing some of my friends and surfing on the internet, I took a dive in the swimmingpool. After the weather started to improve I took their dog Sadie for a walk around the property and took some pictures.
Across the property, Steve made some stone statues with a spiritual meaning. I just loved them. Steve and Brad both have a Celtic background and Steve created a Celtic meditation circle. The energyflow within the circle is superb. I walked inside, sat on the stone and it was just as though a warm blanket fell over me. And everywhere you go there's moss on the trees. That night I received mail from Linda whom I had visited in Texas the previous year. In the meantime she had moved to San Fransisco and she was visiting some other forum friends. Linda decided to take a small trip (3 hours) from Seattle to Amboy just to see me! That indeed was very good news!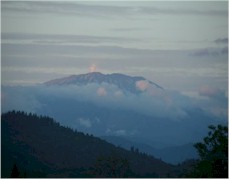 Tuesday, August 21st allready, time flies when you're having fun!!
At 8.30 am. I was outside, enjoying a cup of tea and the view of Mount St Helens when I suddenly heard a voice behind me saying: "Hi Conny"!! And there was Linda already, wow it was so good to see her again. Sitting, enjoying the sunshine, chatting, Linda does that very well, just like a waterfall. After Brad woke up, we first took some pictures and went to Battle Ground. We took Sadie to the Vet en then had lunch. After lunch Brad went out to work and Linda and I went to see the sights in Battle Ground and take some more pictures of the Longhorns. On our way home we stopped over to take pictures of the buffalo's , wonderful creatures!
At home we walked around the property some more and had a nibble and a bite near the swimmingpool. Late in the afternoon Rob arrived from Seattle. I also know him through the forum and he was the one to take me on a trip to Mount St. Helens, the following day. Of course the inevitable photo's. Then it was allready time to say goodbye to Linda and after a late night supper, Rob and I went to sleep early so the following morning we could take off on time!